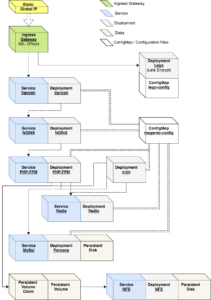 Are you looking for a scalable Magento cloud hosting solution? Here is a diagram on how a scalable Magento Kubernetes environment on Google Cloud looks like. Bonus: Free SSL!
Static IP. A static IP address is a number (in the form of a dotted quad) that is assigned to a server by an Internet service provider (ISP) to be its permanent address on the Internet. Configure a new static IP on GCP.
Kubernetes. Open-source system for automating deployment, scaling, and management of containerized applications.
Step By Step Guide for Deploying Magento 2 Bitnami Charts in Kubernetes on Google Cloud. 
Read the step by step instructions on how to set up Magento on Google Cloud Using Kubernetes, Google Cloud, and Docker.
Want to skip the hassle? We offer Magento Cloud Hosting.
Email us at hello@buildateam.io for an advice or a quote. Also feel free to check out Managed Magento Optimized Google Cloud Hosting
Authors:
Kirill Morozov, Alexey Eremenko.