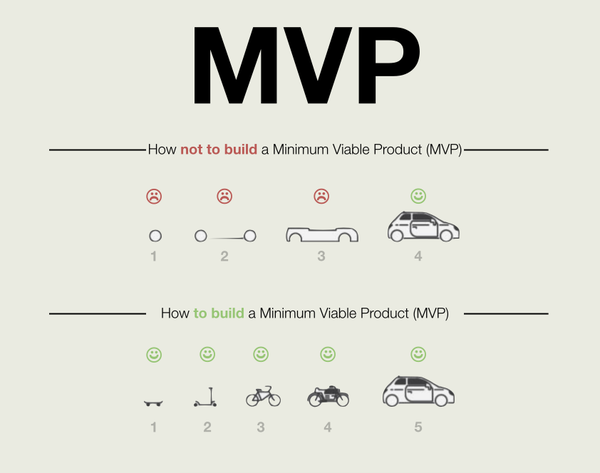 Why You Need Help Building Your Startup MVP!
Has anyone ever paid you for just an idea? Didn't think so. It usually takes at least a solid MVP, right?
Since we set up our company in San Francisco, we've been focused on helping startups build their MVPs and we've heard thousands of potential clients tell us that they have "THE" next big startup idea. We agree with the philosophy out here that confidence is really an important tool and we also believe that the mindset of "Fake it till you make it" is definitely subscribed to by most Bay Area founders. There's absolutely nothing wrong with that, and it's something that we adore about working in this region. Having said this, our CEO Lex's response has always been the same since day one:
"The idea is important, but it's ultimately the execution, that sets successful products apart, and that's where we come in".
So why do you need help building your MVP? First, for those that don't know, MVP is a startup term for "Minimum Viable Product" meaning a product that may not be perfect and ready to support millions, but it will get you traction and prove the concept enough to get you the meetings you need. MVPs are important because they help prove that you're on the right track. The key with MVPs is being able to iterate on the product early on, quickly and efficiently.
Products naturally evolve during development with the more user feedback and market insight you gain. Hiring full-time employees takes time away from product development, fundraising and other important tasks for founders. If you wait as long as it takes to iterate several times and get it perfect, then you could be too late to the party and someone could have moved quicker to getting funded, and grown their team and passed you up. This is where services like ours come in, and help non-tech founders and other early stage startups with their MVP development, while they work on the business sides of things. Not only does this allow the startup to move faster, but it also ensures a better quality product and a lot less stressful nights leading up to your big pitch day.
What is unique about newer solutions like BuildaTeam is that we aren't just freelancers 8,000 miles away that you are need to explain the requirements to. We help you define and optimize those requirements and align them with your business objectives, leaving the legwork of writing the code to outsourced expert teams. This help founders ship early stage products both on web and mobile. Today there's more of a paradox of choice on who to trust with your software development than flavors of ice cream from the Ice Cream truck guy. You need to pick the right solution either hiring in-house or outsourcing but the fact is, you don't need to be an incredible tech developer or software engineer yourself any longer as much as you need to be a really good manager. You need to find the right solution for your team, and move quickly so you can get it right, before you run out of cash.
"Unless you're already an entrepreneur with at least one nine-figure exit behind you, the answer is no. The reasoning behind this is simple: People buy products, not ideas." – From a recent Fox News article on a similar subject.
So if you're in charge of a startup that is moving too slowly with development for your liking let's chat. We can help. Email us: hello@BuildaTeam.io