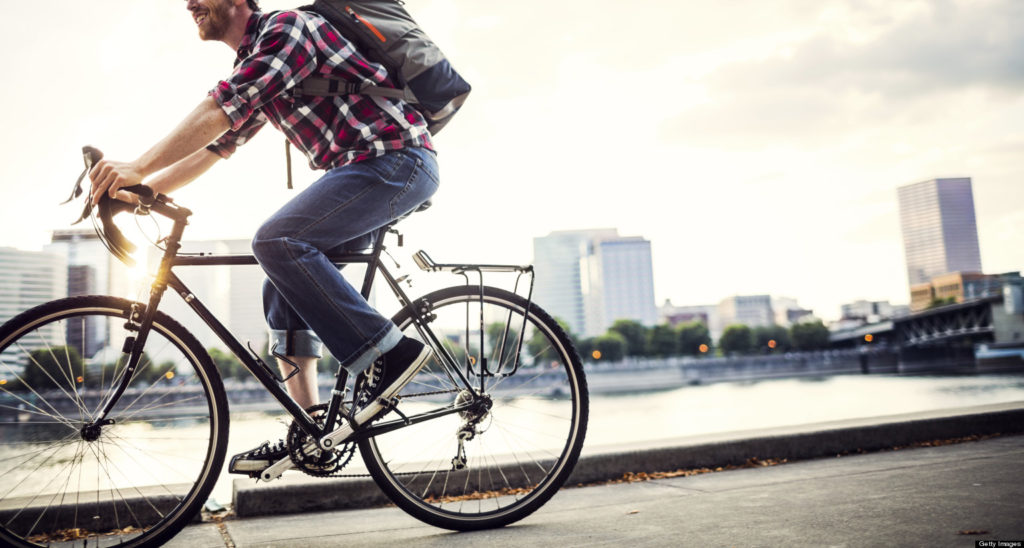 Top 8 Reasons Why You Bike Commute To Work:
Chances are you live within 10 miles of your job, as recent studies show over half of Americans do. If not, there's a huge likelihood that your commute to work is less than 20 miles (as is the case for 70% of us). Now if you're new to the concept of bike commuting there's a chance 10-20 miles could sound like ridiculous overkill but keep reading, because it's not! One of the most common misconceptions about biking to work is that it's inconvenient, but have you ever spent 5-10 minutes looking for bike parking? I didn't think so. Have you ever waited in bike traffic? Me neither! Have you ever been happy to get in your car and drive to work? Nah, didn't think so. A bike commute can change all of that!
No matter where you live, no matter how hot or cold, mountainous or flat you could definitely survive a bike to work day every once in awhile. There's a slew of unbelievably enticing statistics out there so we at BuildaTeam.io scoured the entire webternets and compiled our favorites. These are our Top 8 Reasons Why You Should Bike Commute To Work:
You'll boost your overall well-being. People who switched from car commuting to active commuting (à la bikes) reported greater well-being and concentration in aPreventive Medicine study. Who wouldn't feel great after a free, outdoor spin class?
You'll start the day in a better mood. Bike commuters reported the best moods in a transportation study, when compared to people commuting via car and public transportation. Less traffic and fewer delays = less frustration.
You're more likely to have a lean bod. Biking to work is associated with a reduced risk of obesity and high blood pressure, according to a study published in PLOS Medicine. That's not so shocking, considering that bike commuting can burn around 200 calories each way. Plus, it helps you meet the American Heart Association's suggested 30 minutes of cardio a day, five days a week.
You don't need to go to the gym if you bike back and forth to work.I mean, you absolutely can, but unless you live directly next to your office you're probably getting a pretty decent workout. According to

Women's Health magazine

, a 135-pound woman pedaling 12 to 14 miles an hour blasts 488 calories in 60 minutes. Boom! Plus, your legs will look fabulous. Just in time for summer.
If she can do it, why can't you? Pro Tip: bike in flats, leave the heels in your bag!
Save Money!

 

The average person in the U.S spends $2600 a year getting to work in a car and add on maintenance and car depreciation and the average American spends $9000 to own a car, every year:

http://www.usatoday.com/story/news/nation/2013/04/16/aaa-car-ownership-costs/2070397/

  If you bike commute to work then you can save a ton!
Tax Benefits:

 

According to the National Center for Transit Research on December 18, 2015, President Obama signed into law Consolidated Appropriations Act (H.R. 2029 which among other things mandated that companies that offer employee reimbursement up to $20/month for reasonable expenses related to commuting by bicycle.
A bike commute Increases Productivity: Cycling raises productivity. Exercising before work raises an employee's productivity by an average of 15 percent! Forget coffee, you've got a bike with a bell! And for you managers, you may want to think about installing some sort of bike support program. This could include easy and safe places for employees to store their bikes, allow employees to walk around in bike clothes, sponsor workshops, or get certified in becoming a Bike Friendly Workplace. Find out more information

here

.
"Leaving your car at home and biking to work just two days a week can reduce carbon pollution by an average of two tons per year." -EPA
Sources:
      http://money.cnn.com/2015/06/17/pf/work-commute-time-and-money/
        http://www.fitnessmagazine.com/mind-body/stress/bike-commute/
        http://www.levo.com/articles/lifestyle/bike-to-work-reasons